It is with great sadness that I'm putting my beloved NHK up for sale - tbh, I've been putting it off, but I need to get on with it.
She recently failed an MOT and I've had an estimate of over £500 to get her through, with little guarantee that next year's test will be any easier.
I'm going to attempt to sell her complete first - for someone with skills and time, she might well be salvageable. If no-one wants her whole then I'll break her up, but realistically I won't get round to that until the weather warms up anyway.
She's a C1 V6 with X Pack, 116,000 miles.
She has received several modifications under my ownership, including:
C2 interior (seats, door cards, centre console, HVAC panel, dash binnacle, steering wheel, gearknob & clocks)
Stainless steel cat-back twin exit exhaust (brand unknown, previously worn by The Beast)
Cougar head front grill & Mercury boot badge
Catfabs rear strut brace
18" Momo Corse alloy wheels, fully refurbished and wearing Yokohama tyres*
She has no headunit or front speakers fitted, but there's a pair of Alpine 2-way 5x7 speakers fitted in the rear
The sunroof is non-functional - the runners are fine, but it has no motor fitted (I needed to remove it when it got stuck and wouldn't close)
Some pictures: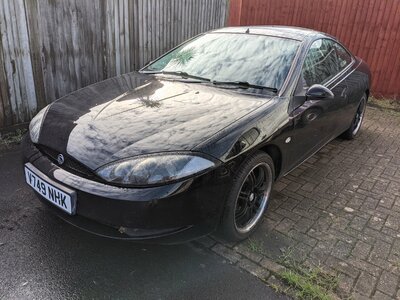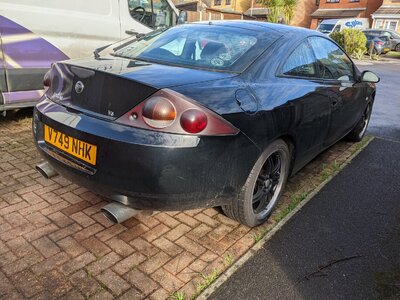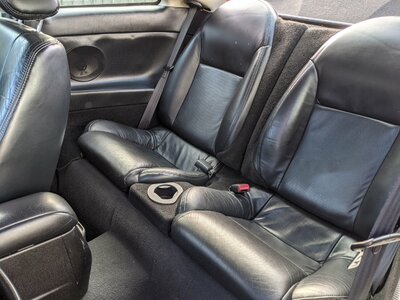 MOT failure sheet: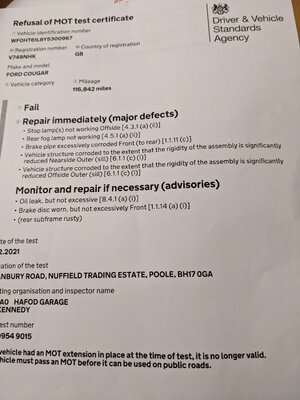 So far, I've only had a brief look underneath, but I can confirm that the sills have several holes and soft spots in them - how far the rot actually extends is unknown at this point, what can be seen from the outside may well be the tip of the iceberg. The rear subframe isn't looking very healthy either, plus I would guess that if one brake pipe is rotten then the others probably aren't too far off being the same way. The oil leak mentioned is from the "front" of the engine (driver's side end where the aux belt is), it's always had a minor leak there but has recently become more serious.
Price? I really have no idea what to ask. £500 springs to mind as a starting point, although I've very much pulled that number from thin air and it is of course fully negotiable. Please note that this price WILL NOT include the wheels (more on this later in this ad). What this price
will
include are a bootful of spare bits, including:
Various spare headlights, front fogs, rear light clusters (with looms, if I can find them), all in various states, none of them pristine
A pair of refurbished front calipers
Cougar 'S' three part rear spoiler, sprayed in Ebony (although, tbh, not too well, so may need redoing)
Spare C2 parcel shelf
Plus any other small odds & ends that I've got lying around
*So, the wheels. Originally given to me by Chris (Mako), these were professionally refurbished last August at a cost of over £500, and I also had 3 new Yokohamas fitted (Chris had already bought one) costing approx. £200. I therefore cannot let them go for less than £400. Whilst the price for the car is absolutely negotiable, I'm afraid the price of the wheels simply isn't. Obviously, I'm happy to sell the car without the wheels, although I don't currently have a spare set - this is an issue, but should be easily sorted if need be.
I think that's everything, obviously I'm happy to answer any queries, either in this thread or via PM if preferred
Last edited: