Bought these via 'fulfilled by Amazon':
"
NIGHTEYE H7 8000LM LED Headlight Bulbs Conversion Kit, DOT Approved, S1 series Super Bright LED Automotive Headlamp-6500K Xenon White (2 Pack)
"
I haven't tested these on the road yet, but I fitted them tonight.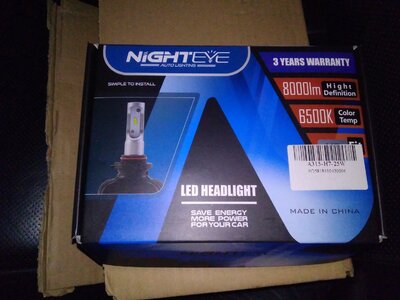 They arrived in the usual Amazon carton, two bulbs in the pack in simple grey polystyrene insert.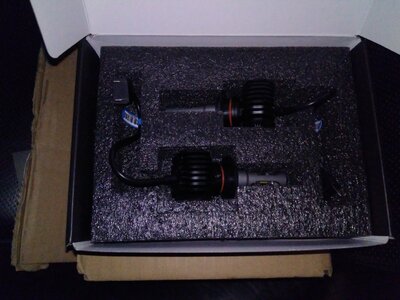 How the halogen/filament bulb looks lit.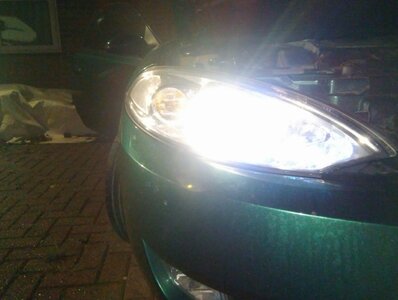 Then the LED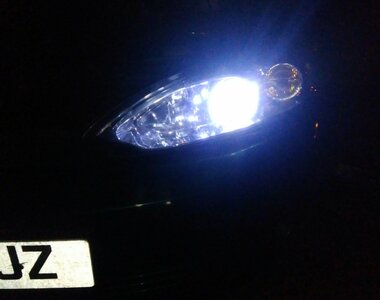 Both together for comparison.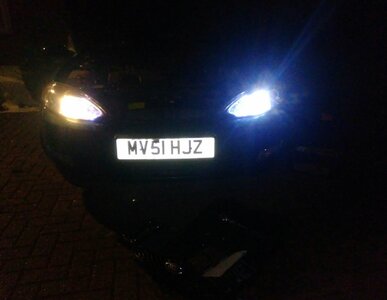 Now for the fitment tale, and the reason why I haven't given 5 stars.
OK so we (should) all know how to change a Cougar headlamp bulb; grill off, headlamp housing(s) undone and pulled forward, housing rear cover undone/removed.
Disconnect the cable from the bulb, swing away the hinged spring retainer and extract the old bulb.
So far so good.
Now to fit the LED.
Place the LED into the headlamp aperture. Now due to the size of the LED heatsink, the hinged spring clip won't go around it.
So remove the spring clip, place it around the LED between the bulb and heatsink, insert the bulb and try to refit the spring clip into its holes. Very fiddly, but eventually done.
Now try to secure the spring clip to retain the bulb/LED.
Due to the halogen bulb having a metal backplate and the LED having a plastic one, that on the LED is thicker, so it is harder to lock the clip into place. Also the stem of the LED (between the backplate and the heatsink) is chubby, stretching the clip so the it only secures partly on the hook.
Then connect the bulb cable to the flylead from the LED (necessary due the heatsink occupying the space where this normally connects) and try the headlights before refitting - as LEDs need the polarity to be correct and you don't want to go any further before correcting this.
As I say, I haven't road tested yet, but light output seems OK, but these definitely aren't a drop-in substitute for a standard bulb. I got worried they wouldn't fit at all (especially the heatsink into the housing) and am still not entirely satisfied with their security.
Last edited: