Hello all,
In the spirit of Shag's column (not to steal any thunder, how could i with that amazing mirror finish shaggers has achieved!?) I thought I would post my own weekend's graft.
The cougar has finally had its arches problem rectified, she is almost finished (and ready for sale :nonod
.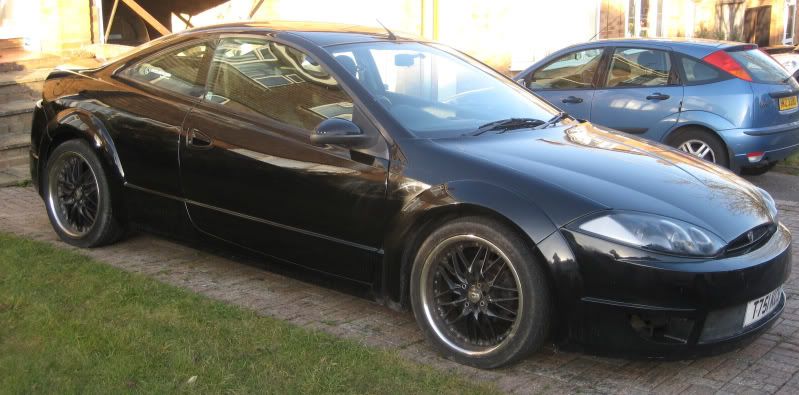 However, it needs a lot more than just the respray to be ready. So, for those who are interested, here is what I got upto at the weekend.
First thing is first, strip the boot out;
As you can see, this car was not just for looking pretty, I used it as a workhorse too. Christmas trees, bags of sand, wood, mattresses - its all been in the boot! As you can guess, this had a bit of an affect on the interior;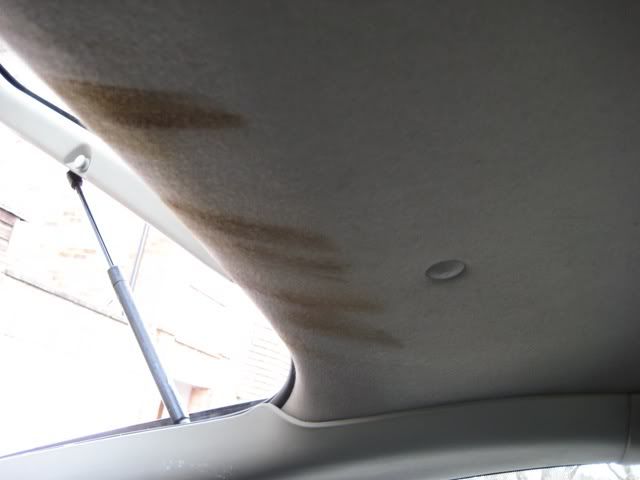 No, its not poo. It mud, or rust or something!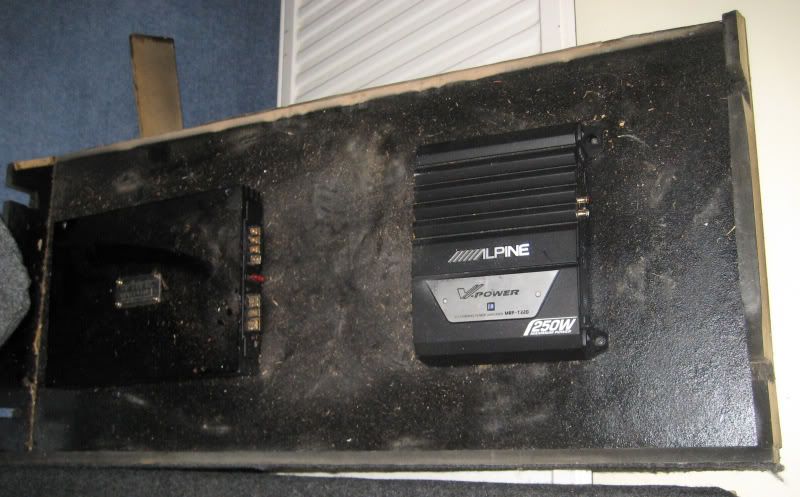 For those trying to figure out how to get hair and bits of plant out of your fabric boot lining, I found a great tool. Steel wire brush! It does not rip the material, and instantly gets out all those hard-to-get bits of **** that are embedded in the cloth. Finished with a thorough hoovering, everything comes up as good as new.
*shudder* An empty boot.I'll soon sort that out....
With the boot contents all clean, it was time to move onto the exterior of the car.
Although ideally I would like to move the exhaust tips up and out to fit properly with the kit, I can not justify throwing more and more money at something I am going to sell, so I decided to go back down the mesh route. This time with something a bit more substantial.....
First off, remove the back of the car, and try not soil one's self in fear;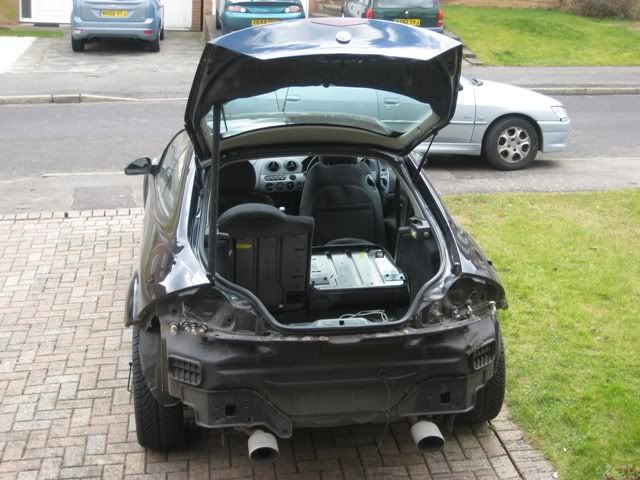 I gave it all a bit of a clean with the bumper off, 10 years of dirt had built up in even the most well protected of areas.
So what mesh could possibly be more substantial than normal car mesh? Hmmm, I know - Prison mesh!! Luckily i got my hands on some of this material, which was powdercoated black already, I set about it with an angle grinder and lots of grunt to bend it to the right shape.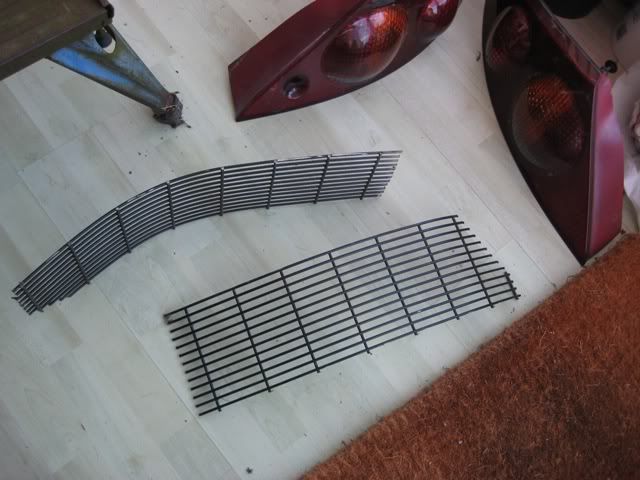 By this point, my poor father's house was completely covered with Cougar parts;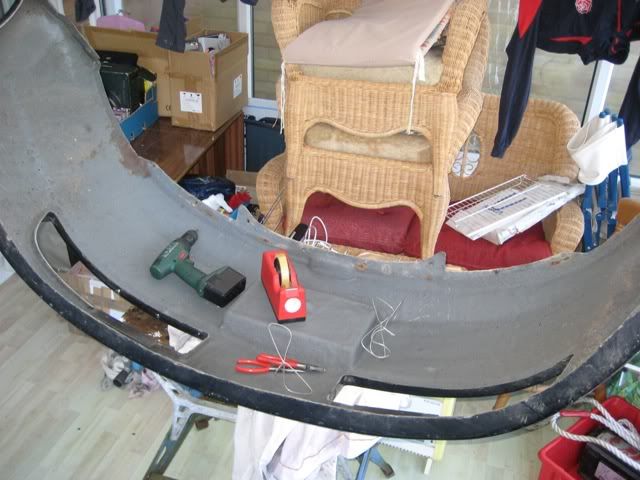 I'm quite happy with the final result. The next owner may decide to bring the tips out in the end, but I quite like the stealth look;
With the meshing done, the car is all bolted back together and looking much better for it.
The next issue is sorting the rear lights out. When the car was baked after spraying, the lacquer on the rear lights cracked. As a result, it looks like I now have a date with lots of wet n dry, and another thorough read of Shag's 'how to' with regards to getting a good shine.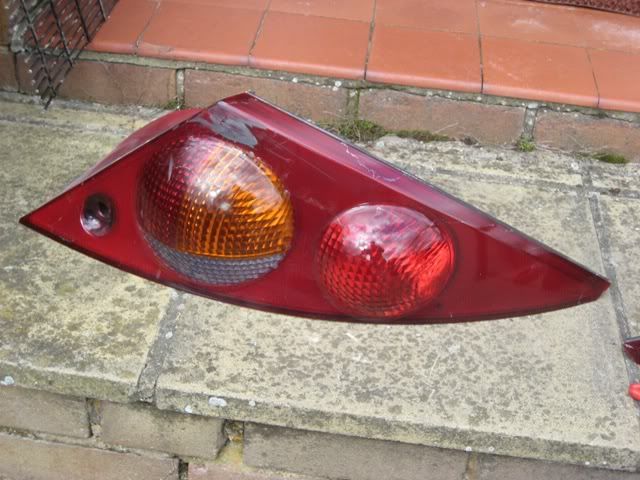 So there we have it, the end result of one very busy Saturday! Another days work of sorting the rear lights out, cleaning the rest of the interior, re-wiring the stereo and giving the car a final heavy wax and she should be good to go! (Quite literally, unfortunately
)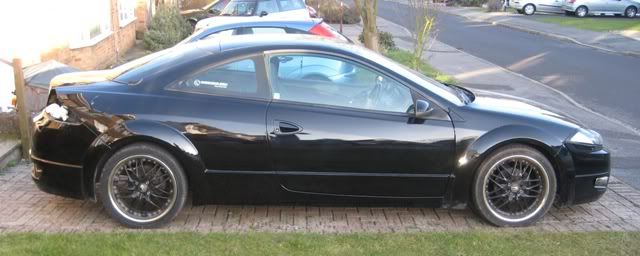 Shame, spending so long on your car and getting a good result really does make it harder to let it go!!