Well as I'm sure a few of you have already guessed, I am in the process of a few more minor alterations to my cat's styling, courtesy of the skills of Al/Pid_16v.
Despite his own mammoth engine replacement, Al kindly agreed to fit & spray some more bodykit parts for me, I'm adding to my cat.
I thought some of you might like to see the progress in real time, as it's happening.
Here are the pics taken so far :
Day 1
Removal of OEM rear bumper & a test prefit.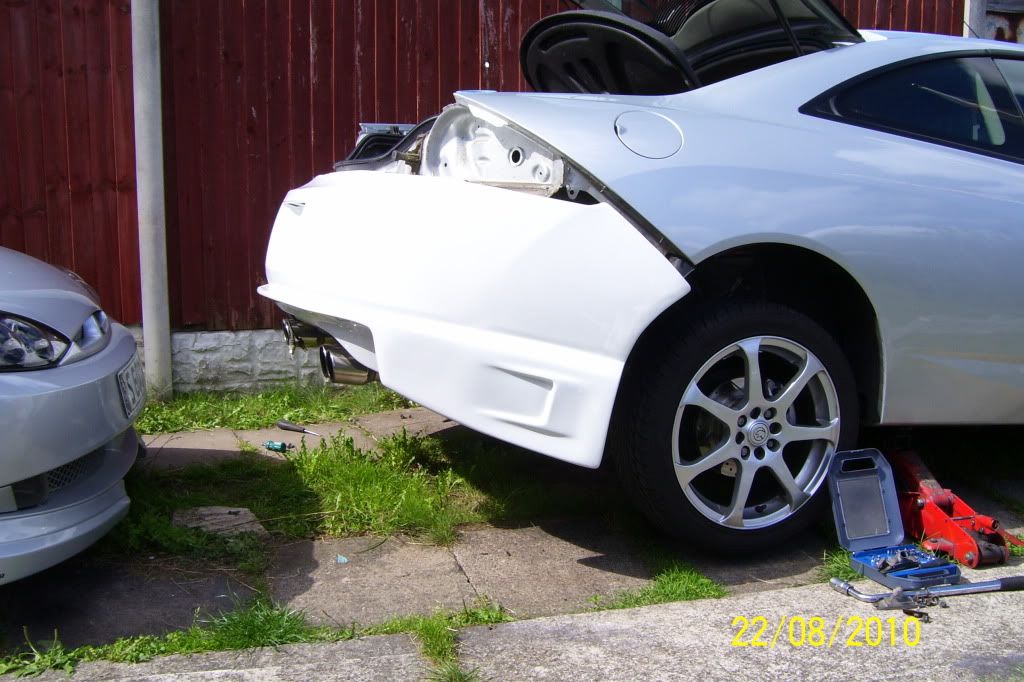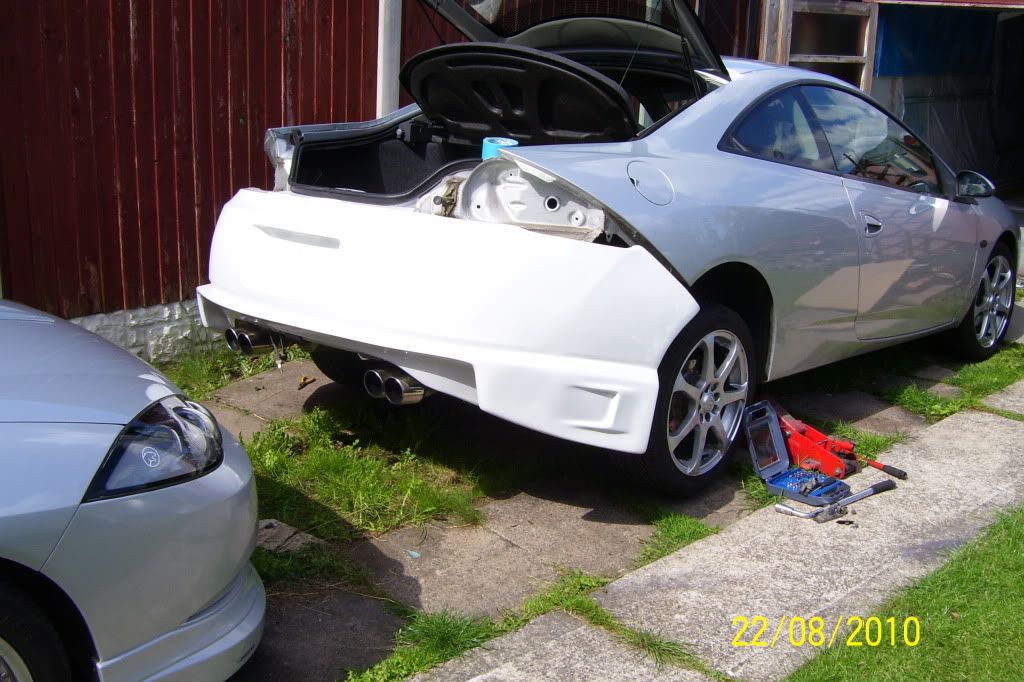 Holes drilled in rear bumper & test fitted, Lights placed and boot lid shut test fit, just before going in for the night.
DAY - 2:
Side skirts taped in place to see how close the fit is.
A lot of "fitting" involved here. Sideskirts eventually dry pre-fitted, temporarily screwed into place.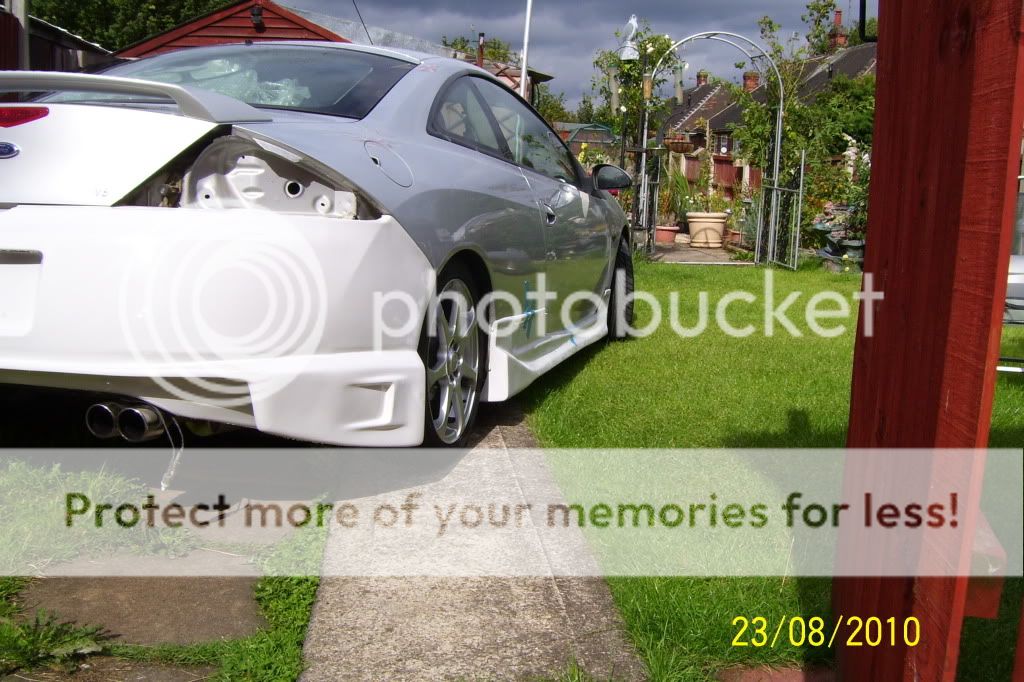 I'll add to this thread, as & when I get further updates from Al.............I think you'll agree he's doing a great job, as always........thanks Al.
One minor hurdle to overcome, is the new rear bumper is made up for a US sized numberplate..............hence new numberplate required.
Here is a pic of the rear bumper already fitted to a cat............not too sure about the colour match though lol!
DAY 3:
Things got held up a bit today,after removing the bumper to prep for primer, while wet sanding I found a couple of minor cracks in the fibreglass, easily and quickly put right, but then i had to repair the exterior of the gel coat as it had also cracked. This took time, mostly waiting time with me twiddling my thumbs. All eventually turned out ok and I carried on with the priming coats.
Cracks glass repaired. You can just make out the difference in colour and through the patch, you can just about make out the cracks: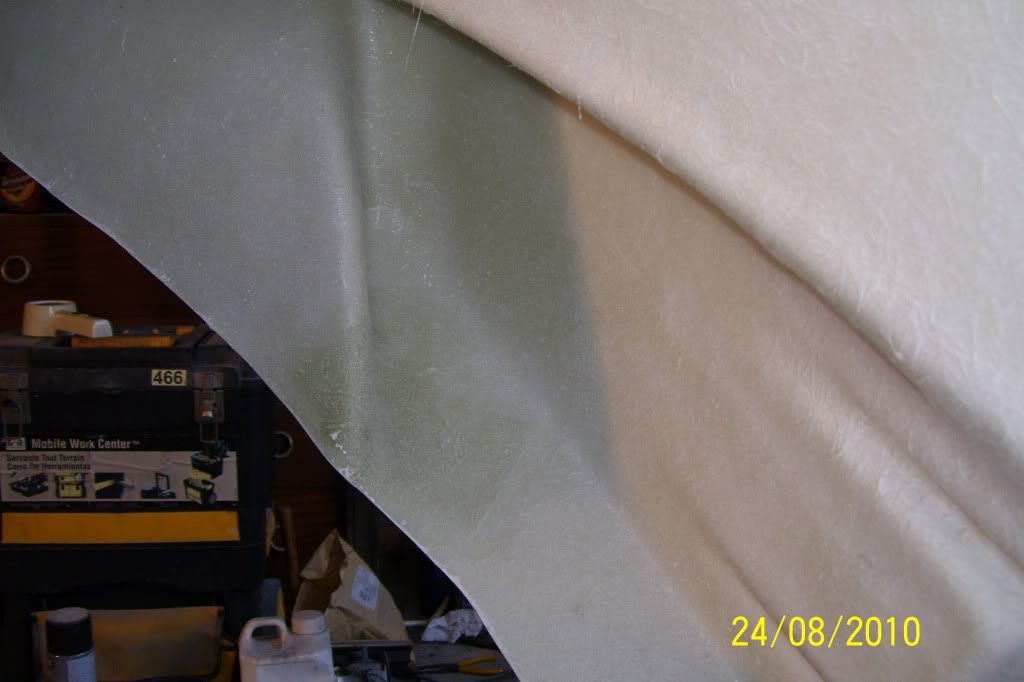 .
and the exterior just prior to a final "skimming"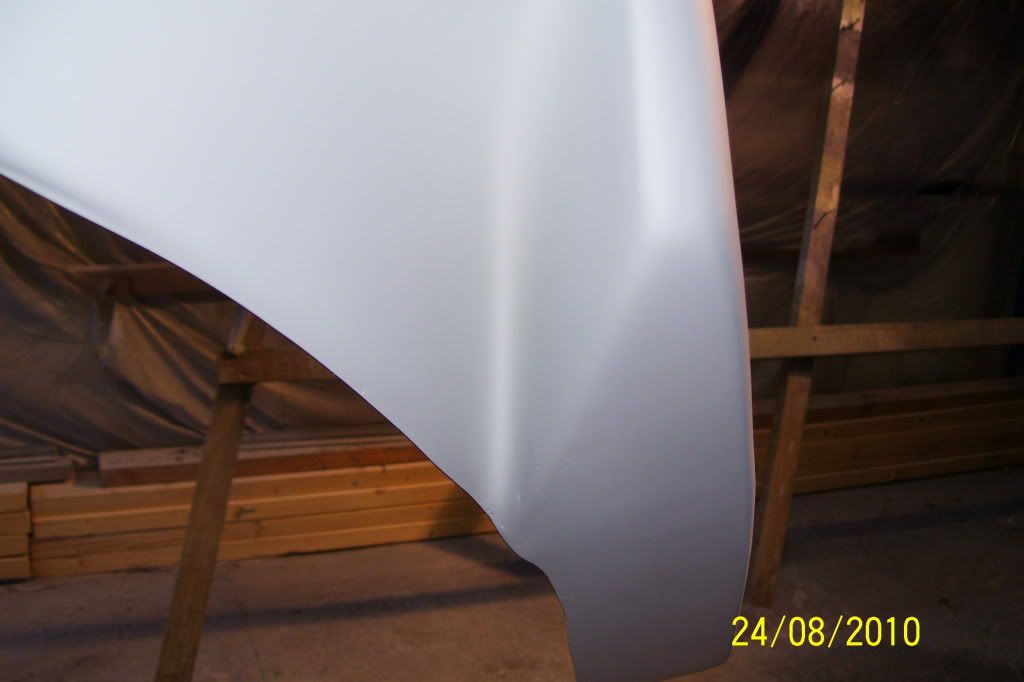 .
Primed and ready for the finish tomorrow.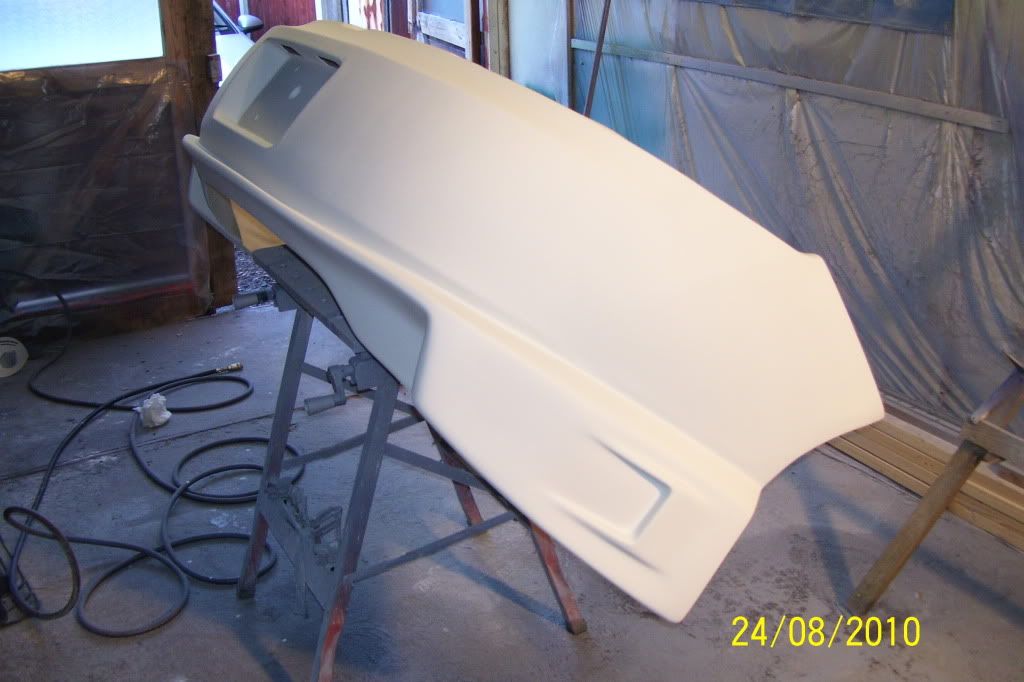 .
DAY 4:
It's ok! really!
The elements took a turn for the worst, so the car had to go back inside. Sideskirts are fitted and ready for painting, bumper is fitted and ready for polishing.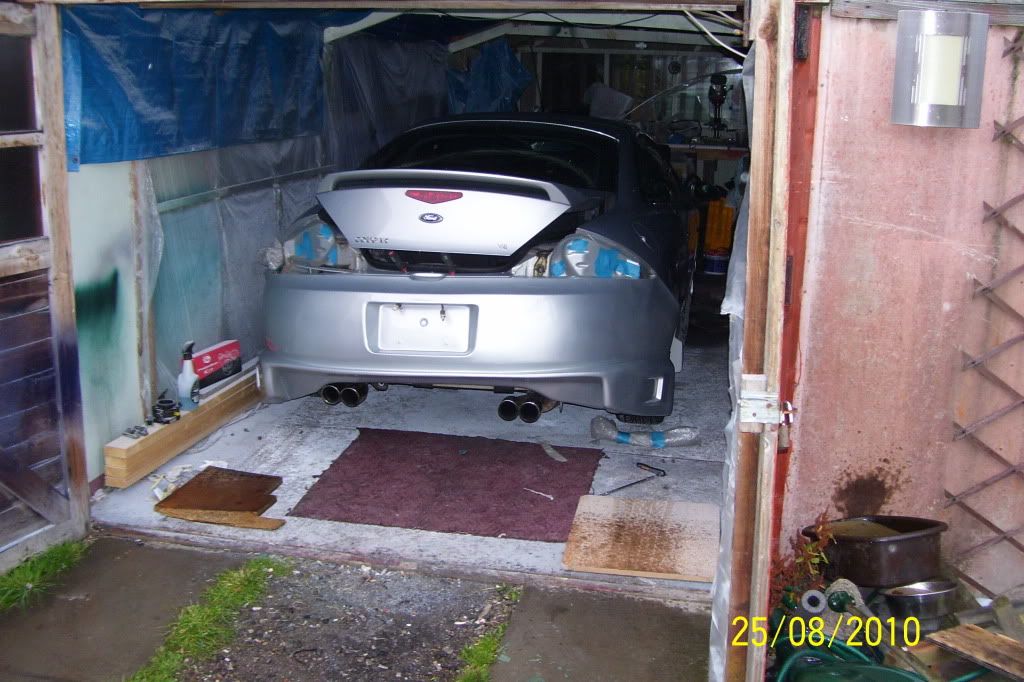 DAY 5:
Ok, it's been another busy one, but things are moving on..................
Car jacked up and on axle stands, both wheels removed from this side. Side skirt fitted filled where necesary and fettled, ready for some primer.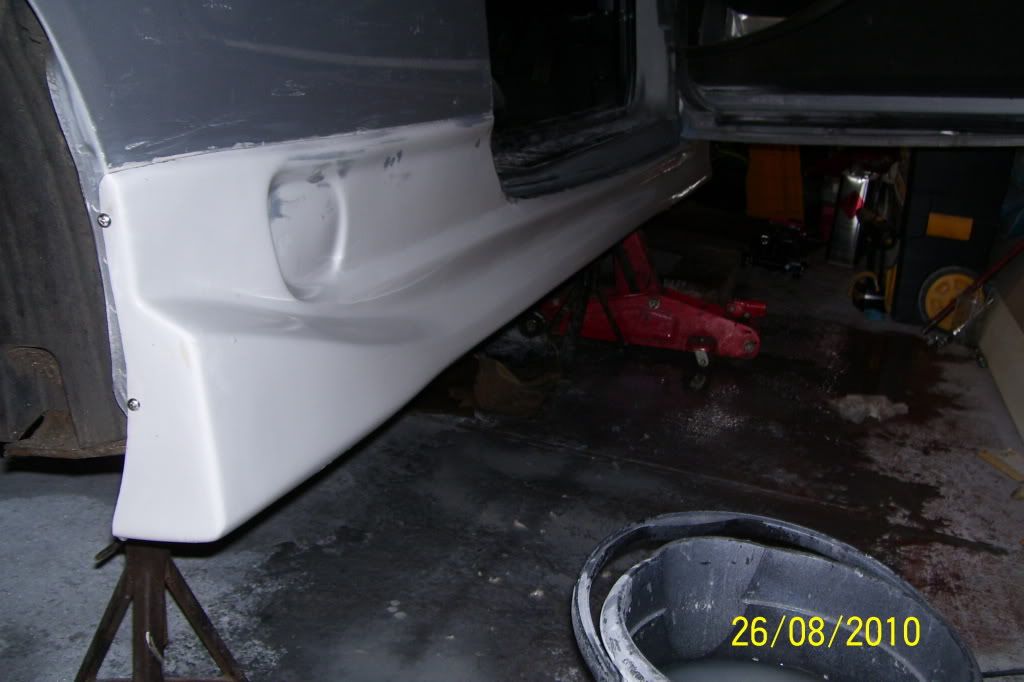 Just two piccies to whet Marks appetite.
Done but still masked: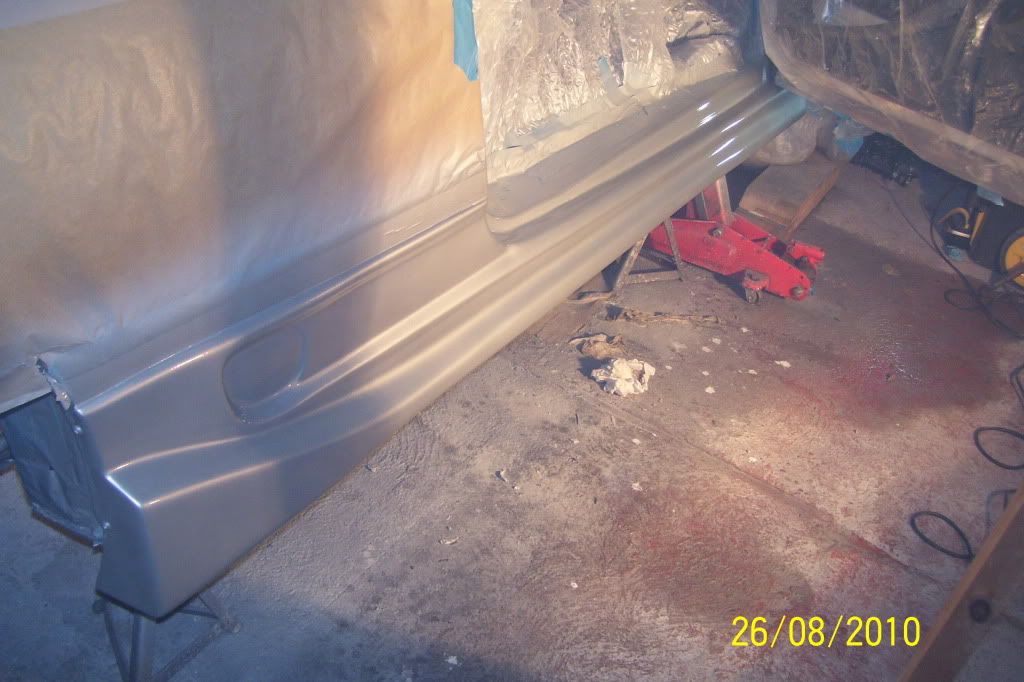 Masking removed, looking very nice. Now this has to stay like this overnight with the door wide open, I don't want the door seal to stick to the laquer. Don't worry Mark, i turned the interior light off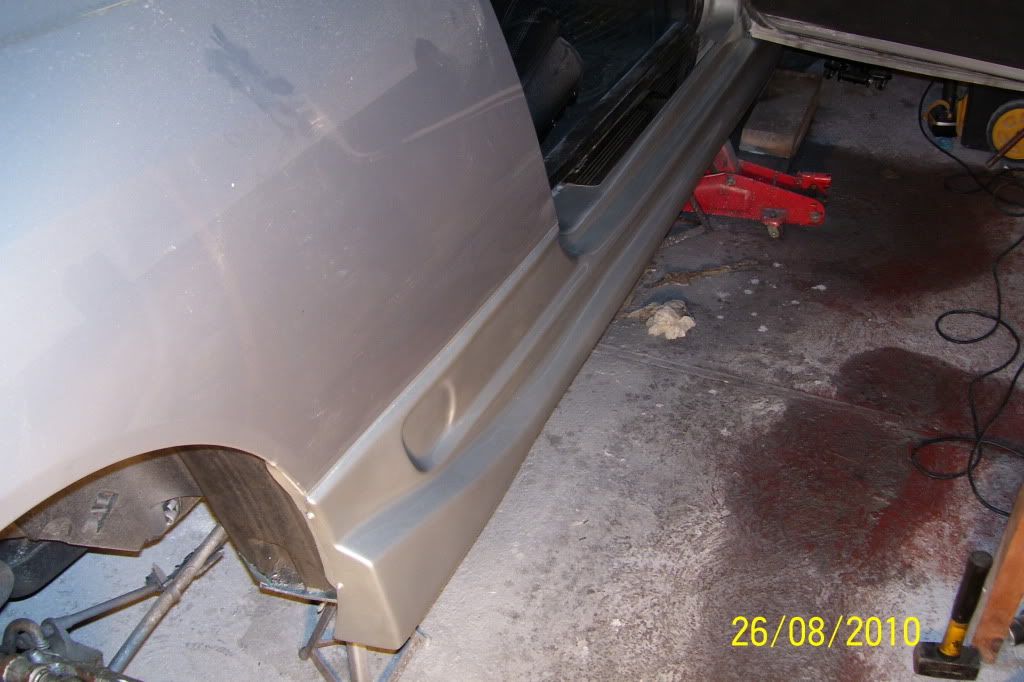 .
DAY 6:
Day 6, and i'm knackered. I've been out there all day today, very nearly there, just some final poilishing to do, some much needed cleaning of dust and overspray, but tomorrow's priority is the repair job on the front splitter.
Here's a couple of spy -shots. It doesn't show in the photo's, but the car is absolutely filthy with dust.
Sorry, i was so tired i took this piccy without realising i'd only refitted one rear light
all sorted now though.
.
Last edited by a moderator: