Honorary Member
Club Member
For me the Ford Cougar is a small chapter now at a close.
I missed my silver reflection in the dark tinted shop windows as I drove through the city this morning. Nothing lasts forever (and certainly not a Ford). Including my short break I've spent around 4 years on Cougar ownership overall, and covered over 70,000 miles in them. I've had more than my fair share of problems too in that time which has resulted in me knowing most of the car inside out through neccessity rather than choice - had I paid garages for all the times my Cougars let me down I'd have gone down the plug years ago. Still, I liked my reflection in dark tinted shop windows either side of King Street and Union Street.
14th September 2003 to 17th April 2008
I bought the car on my 2nd weekend off from my RAF Initial Officer Training. It was in every way an impulse buy, and I'd only even gone to test drive it for something to do in deep dark south west Wales. I'd driven one during Uni but couldn't afford the car. This time I just went for it. I paid ?ú7000 for it, and kept my existing car - the Rover 620 and gave it to Gill, my Fiancee of one week who was taking driving lessons. As a new insurance policy with no no-claims to apply, the Cougar cost me ?ú740 to insure :?
When I left the RAF after an injury and generally not being very good I needed money and took a job back at the airport just to keep up the car loan payments - I didn't want to sell her. My Cougar paid me back by disintigrating it's clutch. I had ?ú200 to my name and spent ?ú160 on parts. My dad (an aircraft engineer) helped me change the clutch on the most complex car we'd ever tinkered with over a week or so in the garage. It was evening & weekend work because we had day jobs. It was an utter bitch of a job at the time (I can do it in a fraction of that time now). He's a good father - always has been. I'm sure changing a clutch in a single car garage wouldn't have been his first choice of activities....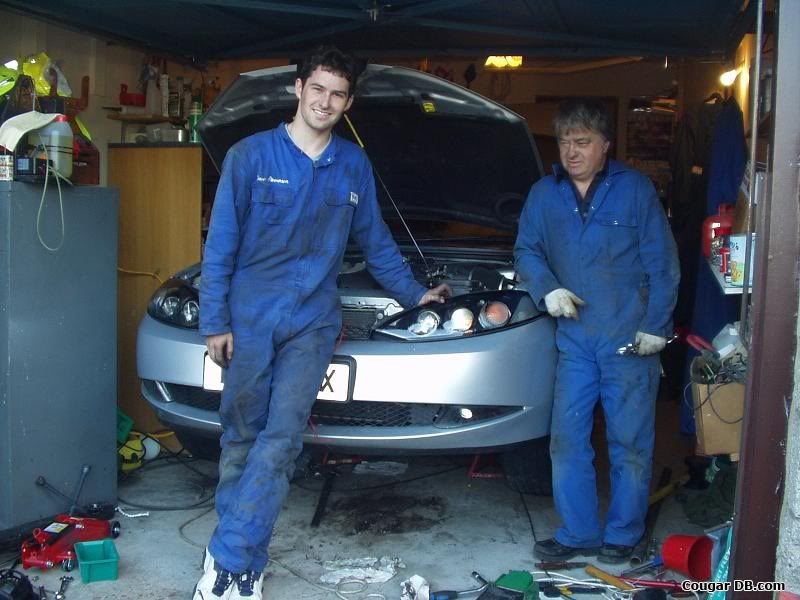 2 weeks after that the car thanked us for our efforts with a dead alternator and a lift home on an AA truck. :evil:
It wasn't long after this that I joined UKCougar.com properly, but quickly realised that the information that would have eased my recent sufferings just wasn't there. Everyone was talking about modifications (of varying quality...) whereas I wanted detailed technical information. It was a slow realisation that if I wanted such material on the owners' club forum, I was probably going to have to write it myself.
My first meet a Crail Raceway, Fife, with Voidtiger (who would also end my Cougar ownership) and Stu (who remains a decent friend).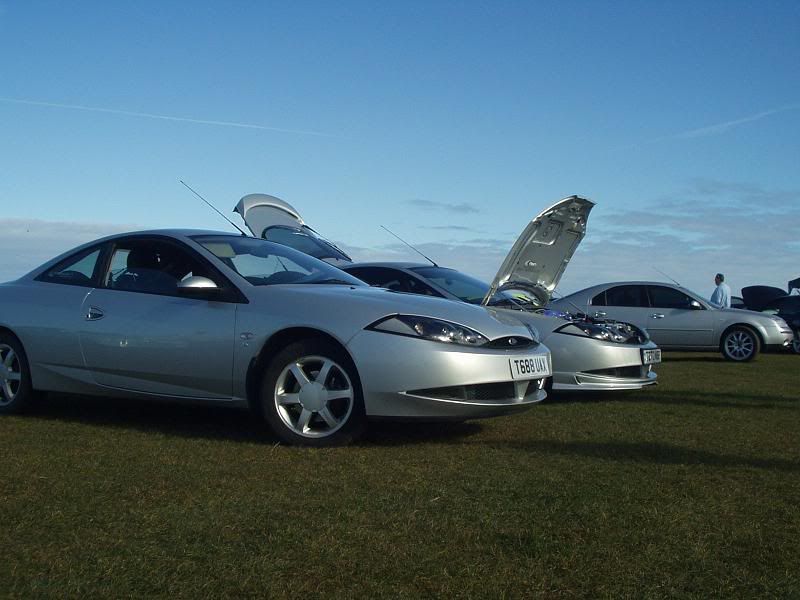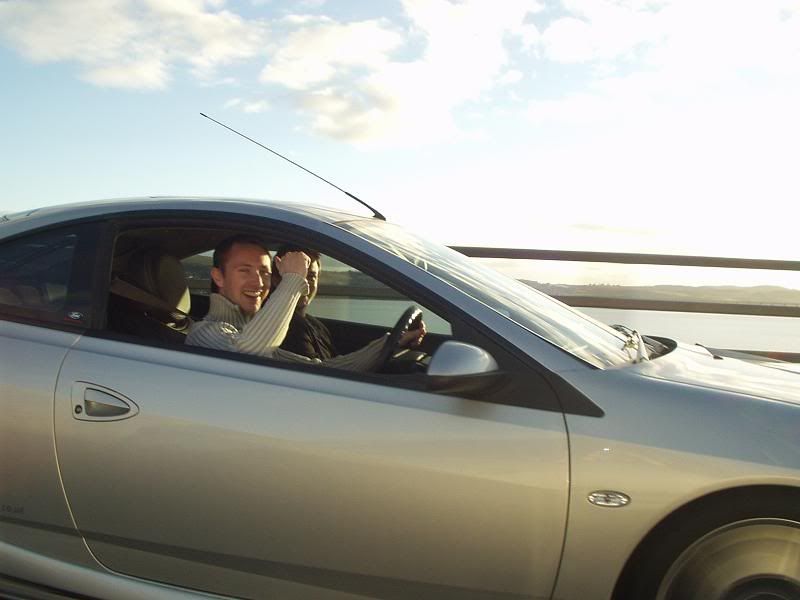 I became conscious that my car looked like it was on stilts and had tiny wheels when parked next to Stu's, but it would be a long time before I'd buy Jason Jones' wheels after the demise of his car, and buy Apex springs from Urban Racing who did discounts for UKCougar.com.
I would get married to Gill in July 2005, and used the Cougar as our wedding car. The aircon didn't work and Gill almost melted in the heat waiting for someone to find the wedding rings...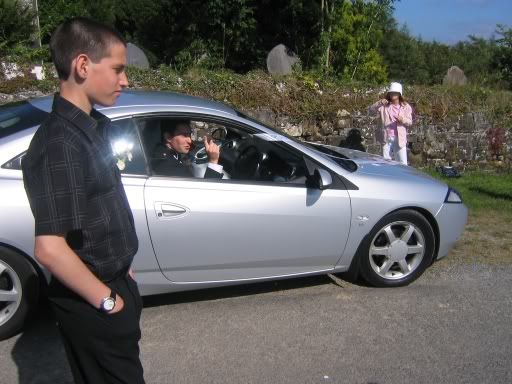 My tail light covers came from CustomCougars in the USA. I painted them myself but the colour match wasn't great.
One day, feeling ill and in too much of a rush I forgot there was a huge concrete platform on my nearside at a petrol station and slammed the door shut, drove off and scraped the side of my Cougar down it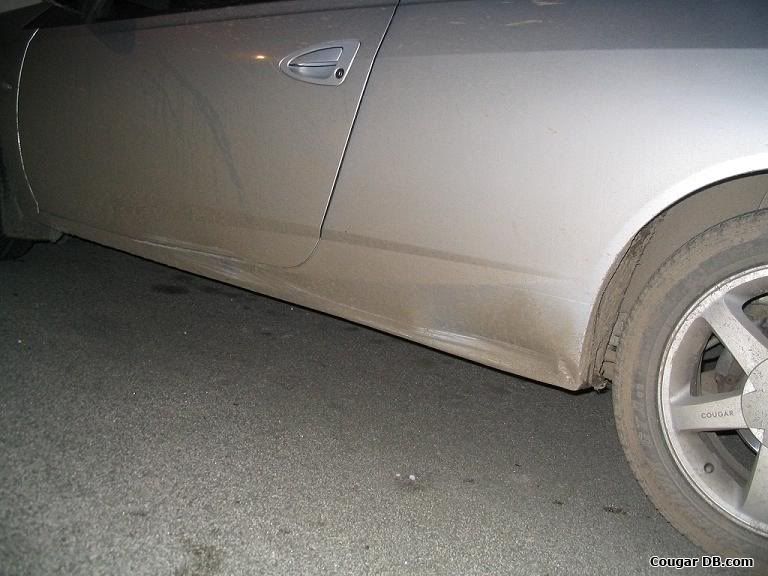 The man who fixed the car repainted my tail light covers and resprayed the whole nearside of my car for ?ú460. What a cracking job he did of it
I paid Jason Jones who lived near Birmingham for his 18" alloys and I was excited. The logistical problems then became apparent. I bought lowering springs and fitted them one Saturday, again getting a spare pair of hands from my dad and I photographed everything and took mental notes off all the tools I was using for every nut and bolt. I'd use them to write a How-To with photos. This was spring 2005, and I had to write "Photographic How-To - 56k Beware" on the thread title. Nobody bothers with that any more
Over the years, several more pictorial How-Tos would appear from various other members with technical skills far exceeding my own as they joined up
It would bite me on the ass at Cougarfest 2005 when I agreed on the forum to change Stewart's wishbones at Billing Aquadrome. Half way through the job Stewart appeared from the sun glare holding a box of springs, a big grin and waving a printed off copy of my How-To :roll:
Thus started my short lived tradition of lowering a car every Cougarfest.... the cars were Stewart's, Paul's and Tony's.
It kept me busy during the day - I can't drink booze constantly - I get bored far too easily! A downer of Cougarfest 2005 was that Jason's hire car company let him down, and the pokey little Eurobox they gave him didn't have enough space to let him fit the alloys in.... I went home disappointed.
One evening in Autumn 2005... I remember I was a bit down when I took this photo. The blue colour is a coincidence. This photo prompted Stewart Wilson from .com to arrange the relay of Jason Jones' old BK166 alloys to me to cheer me up...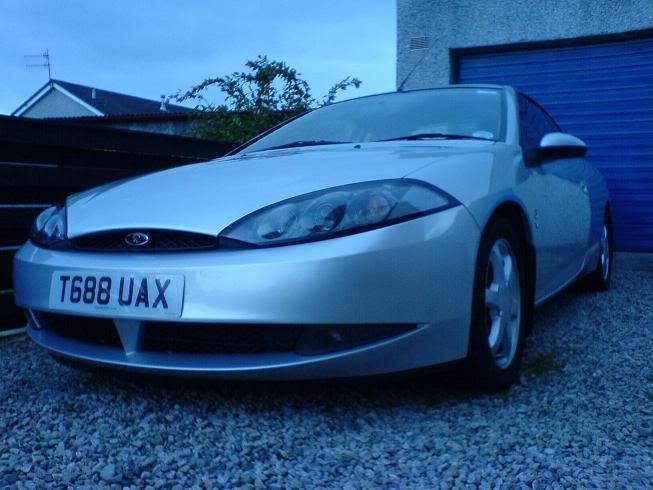 And I was a happy boy after a whole day hunting round Aberdeen for wheel nuts that would fit - thanks for driving me around dad!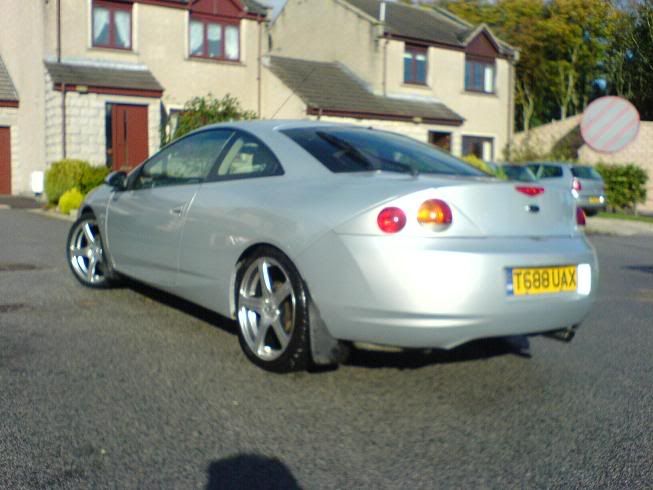 I liked this photo so much it became my .com Sig for a few years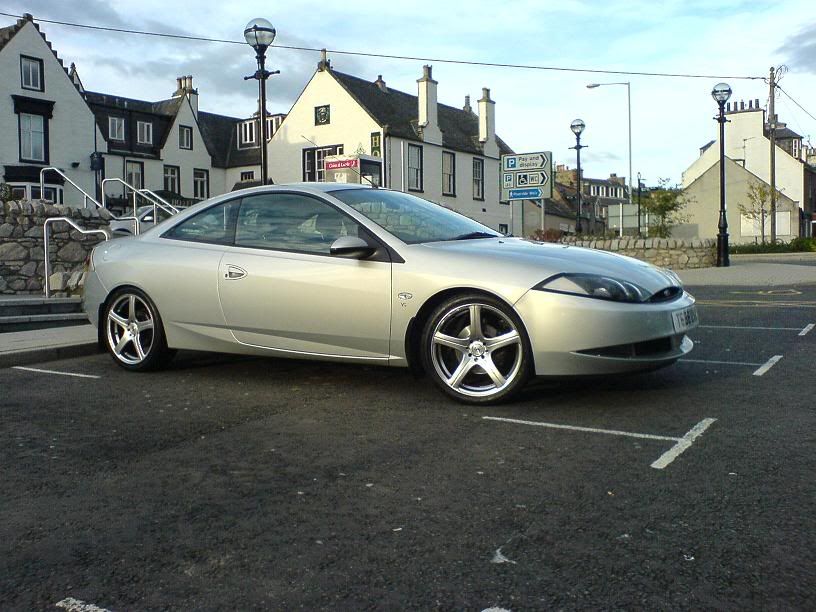 Nothing much else expense wise happened to the car intentionally... I needed a new gearstick gaitor so Gill made one for me and I gave the interior a freshen up with some lighter silver: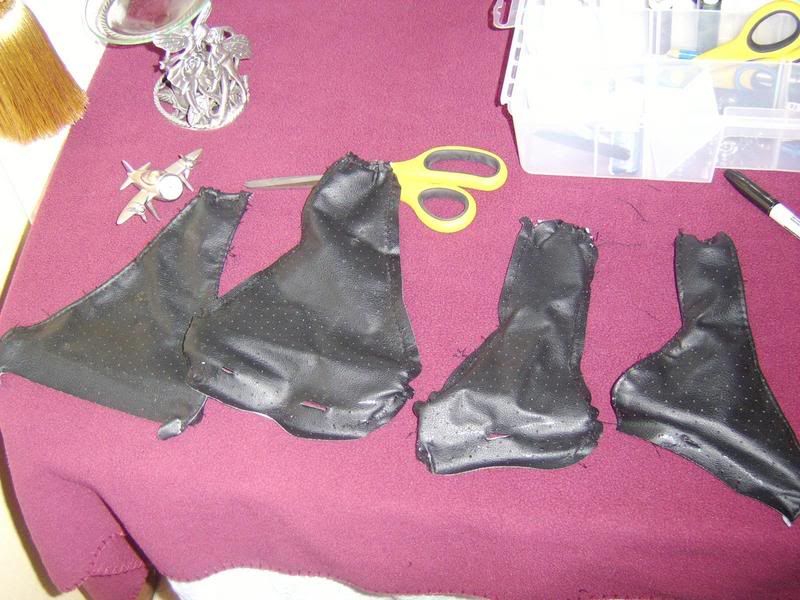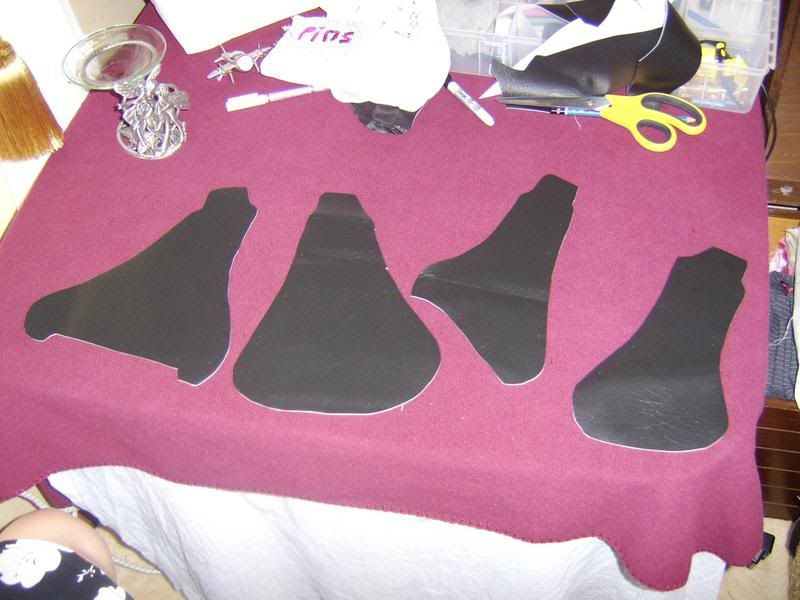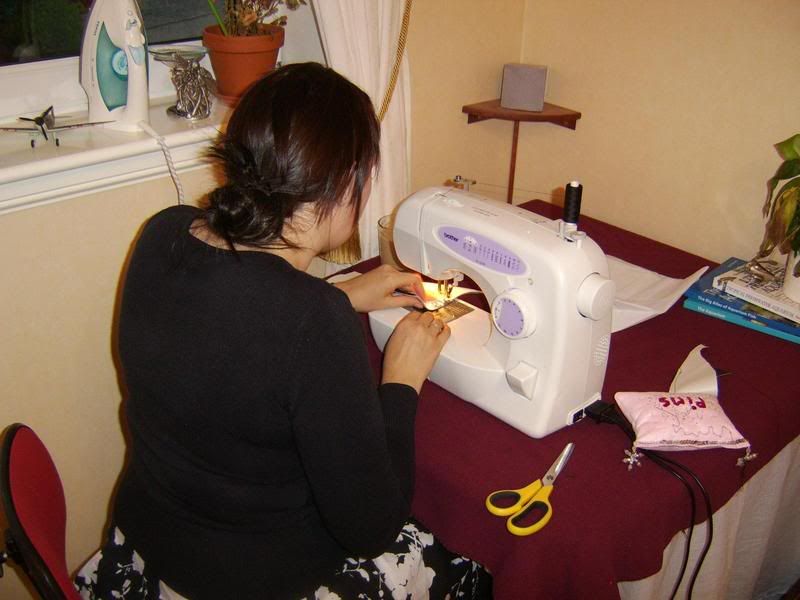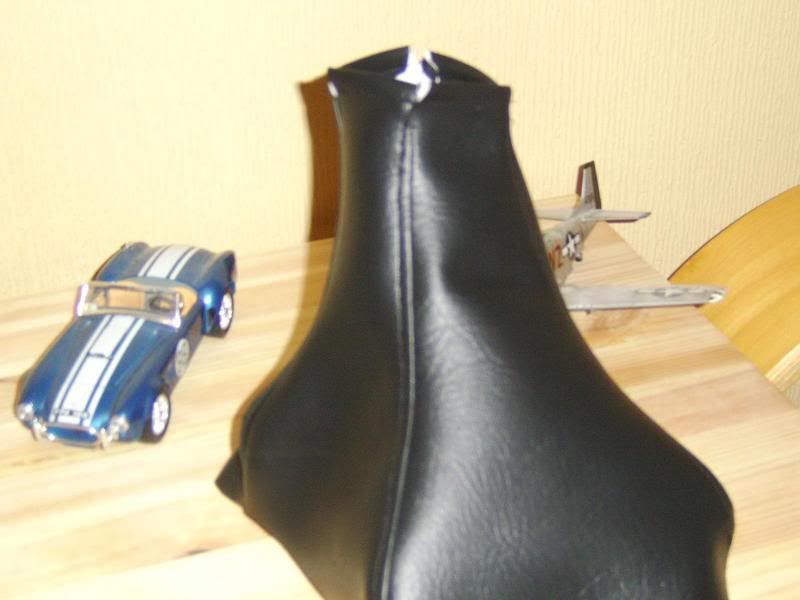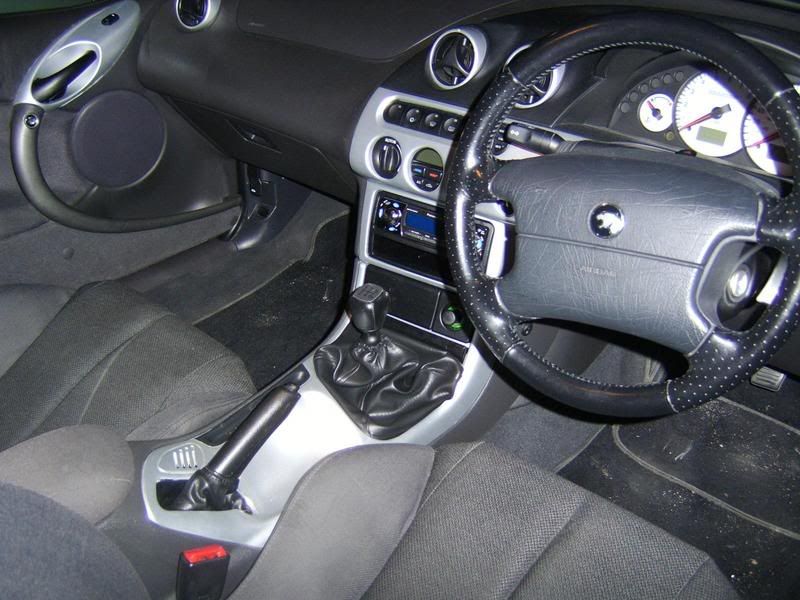 After a while the Cougar started to show it's age a bit, and the engine started making a noise I just couldn't isolate and identify for sure. It looked like early signs of a head gasket failure so we traded in the car for a Mazda MX-5 for Gill. It was a sad day leaving the Cougar behind when I picked up Gill's new car. The Mazda was and is a great car, but in a different way. I'd struggle to let the Mazda go now too, but I still missed my Cougar.
It would be around 6 months, but eventually I heard of a UKCougar.com member's car up for sale at the right price and I paid cash for it. Alex_16v had been staying with us for a week and gave us a lift down to England on his way home so we could collect the car. It had X-pack toys but never felt the same.
Still, I figured if I got to work on it, it would grow on me. A few of us got together and bought Roush bodykits from the USA and Gill bought me 19" alloys from Rick here.
Alas, it wasn't to be though, as Voidtiger had authorised his insurer's to sue me after a minor road accident whilst towing his car to change his knackered gearbox for him.
These were the first and last pics I'd take of the new Cougar. She doesn't look too bad here really. It's a shame I never got to fulfill my plans for her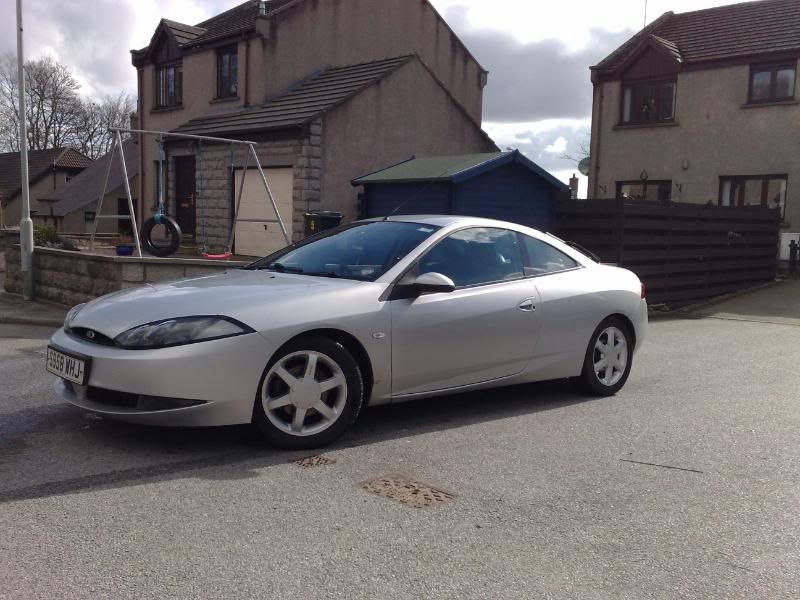 My plan was to finish her like this: